Search Engine Optimization (SEO)
Search engine optimization (SEO) of  a website can be an extremely rewarding and lucrative activity. On the flip side, if SEO is performed incorrectly it can be an extremely thankless task that ends up costing a lot of money, with little to no return. One thing that is for certain is that SEO is not easy and even when initial success is achieved, the constantly changing search algorithms can make it very short lived. The bottom line though is that good SEO will get your site ranked higher in the search engines with more impressions, resulting in a high volume or high quality traffic visiting your site.
While CalScot Marketing will not make you any unrealistic promises of getting your site #1 search rankings, we can help advise you on your SEO strategy and then help you implement a plan of action that will help your site increase traffic from search.
SEO Services Include:
Consulting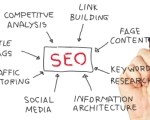 If you want to do most of the work yourselves, just let us know how we can help you. We can be anything from an advisory service to a fully fledged SEO partner, or we can help you with the tasks that you don't want to do internally. If you already have a plan, we can evaluate it, provide feedback and help with the execution if required.
Planning
Whether your website is new or has been around for a while, having a solid SEO plan is critical to ensuring that you either maintain your current rankings and climb higher. Without a plan, your rankings will dip and your site could be at risk of a search penalty that gets it removed from the search results altogether.
Keyword Research
This is a time consuming yet critical task. As privacy becomes more and more of concern, the major search engines are releasing less and less information on keywords, making it more difficult to identify the most highly searched terms for your industry. Chasing the most popular keywords can also be a bad strategy in some cases as they are the most competitive and hardest to rank highly for. We can do this research for you by looking at your both your industry and your competitors. The results of this research will feed into your SEO plan to ensure that your site can effectively target these key terms.
Website Optimization
This is one of the first steps that is critical to be performed in an overall SEO strategy or plan. A number of tests and tools must be run to evaluate the website and then feed this information into your SEO plan of action.
Content Strategy
We treat this as a separate service but it must be mentioned as it is a key part of every SEO strategy. Have you ever heard the term "Content is King"? Well that is more true today than ever before and any content that you create must be unique, interesting and differentiate from competitors such that it is popular in social channels and results in increased traffic and facilitates better rankings.
Link Building
Relevant links from leading sites in your industry will be extremely beneficial to your sites authority. Links from low ranking, low quality blogs with thin content will hurt your site more than help it. In general, every business needs to be very careful which sites they pursue to get links from.
SEO Penalty Removal
Get help removing a dreaded Panda, Penguin or Manual Penalty. Removal of penalty can take anywhere from a few months of effort to years and some webmasters actually give up and shut the domain down. Depending on the type of penalty and the current state of the site, CalScot Marketing can help you either pursue getting a penalty removed, or simply decide on the best of course of action from the outset.
In summary, successful SEO is a combination of effective research, planning and implementation. Unfortunately, none of these activities are easy tasks. We can help you with your SEO and even some relatively quick and simple techniques that require a very low budget may just help propel your site up the rankings. Contact us today for more information.